Josh Milligan - Devoted to professionalism and customer care, committed to ensuring a safe and enjoyable experience for your next mountain adventure.
My passion for ski touring has led me to many remote destinations in Western Canada and Europe. Over the past 20 years I've consistently worked with a number of ski touring, snowcat and helicopter skiing operations throughout the mountain ranges of British Columbia. I've also had the opportunity to work as a mountain safety consultant on a variety of projects including; Olympic athletic training, industrial risk management and ski media production. I enjoy sharing my knowledge and would be pleased to help you plan your next adventure.
Canada has a long tradition of professional mountain guiding. Beginning in the late 1800's the Canadian Pacific Railway hired the first Swiss guides to lead mountaineers to the summits of unclimbed peaks in the Canadian Alps. The Association of Canadian Mountain Guides (ACMG) was formed in 1963 with the encouragement of Parks Canada. By 1966, a program for training and certifying guides was in place. In 1972, the ACMG became the first non-European member of the International Federation of Mountain Guides Associations (IFMGA), the international body that sets professional standards for mountain guides worldwide.
ACMG guides are trained to provide experience-based decision-making in the field to balance two important facets of your trip – the feeling of adventure and your safety. The training and certification program requires 4 to 8 years to complete and includes the following instruction and assessment criteria; mountain hazard management, avalanche forecasting and prediction, advanced first aid certification and improvised rescue response.
Booking Policy
To book a trip please review the availability calendar below. After choosing dates please contact us to discuss what you're interested in. Once we confirm specific dates a 50% deposit is required for the guiding fee for the trip. The balance is due 30 days prior to the beginning of the trip. If you book within 30 days from the start of the trip the total guiding fee is due upon booking.
| | |
| --- | --- |
| Number of People | Cost Per Person Per Day |
| 1 | $500 |
| 2 | $275 |
| 3 | $200 |
| 4 or more | $160 |
*Note these prices are for guiding fees only and do not include additional expenses such as lodging, helicopter transport or food. All prices in Canadian dollars.
Currency Converter
Availability Calendar
Use the arrows to select a month.
Payment
We accept cheque, money order, bank transfer or Visa and Mastercard through PayPal. Interac email money transfer through online banking can also be a payment option. Please contact us to arrange the payment method that is most convenient for you.
Cancellation Policy
If you cancel more than 30 days before the start of the trip you receive a full refund less a $100 handling fee.
If you cancel less than 30 days before the start of the trip you forfeit your deposit.*
Occassionally bad weather or conditions cause us to change our objectives. No refunds will be made in the event we do not achieve the original objective.
If we cancel at any time due to circumstances other than bad weather or conditions you get a full refund.
Waiver of Liability
We are committed to providing a safe and enjoyable mountain experience. Nevertheless, ski touring in a backcountry mountain environment exposes participants to inherent risks. All guests must read and sign a Release of Liability and Waiver of Claims Agreement before the start of your trip. Be sure to review the waiver prior to your holiday and contact us if you have any questions.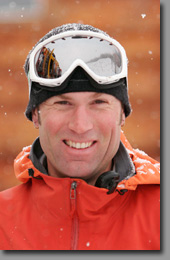 | | |
| --- | --- |
| | |
| Ski Guide | Avalanche Professional |